Forest & REDD
New global carbon map for 2.5 billion ha of forests
| | | | |
| --- | --- | --- | --- |
| Tuesday, 31 May 2011 18:41 | | | |
2.5-billion-ha carbon map shows forests store 250B tons of carbon



Forest carbon stock
Tropical forests across Latin America, Africa, and Southeast Asia stored 247 gigatons of carbon — more than 30 years' worth of current emissions from fossil fuels use — in the early 2000s, according to a comprehensive assessment of the world's carbon stocks.
The research, published in the journal Proceedings of the National Academy of Sciences by an international team of scientists, used data from 4,079 plot sites around the world and satellite-based measurements to estimate that forests store 193 billion tons of carbon in their vegetation and 54 billion tons in their roots structure. The study has produced a carbon map for 2.5 billion ha (6.2 billion acres) of forests.
According to the study, forests in Latin America account for 49 percent of the total carbon stock, followed by forests of Southeast Asia (26 percent), and Africa (25 percent). Brazil's forests accounted for nearly a quarter of total biomass measured in the study. Democratic Republic of Congo (9.8 percent), Indonesia (9.3 percent), Peru (4.9 percent), and Colombia (4.1 percent) rounded out the top five countries, which together accounted for more than half (52.8 percent) of tropical forest biomass.
| | |
| --- | --- |
| | |
The researchers, led by Sassan Saatchi of Caltech's Jet Propulsion Lab, used forest height data measured by the Geoscience Laser Altimeter System (GLAS) on board NASA's Ice, Cloud, and land Elevation Satellite (ICESat) to model the distribution of above-ground biomass stored in forest vegetation. These estimates were calibrated using more than 4,000 on-the-ground research plots.
The paper notes that while more precise airplane-based systems for mapping carbon stocks have been developed, these are presently too expensive to implement on large scales. Therefore the authors say their map can be used for national- and project-scale assessments of greater than 10,000 hectares (24,700 acres).
The study estimated carbon storage using three thresholds of forest cover: 10 percent, 25 percent, and 30 percent tree cover. Under the loosest definition (10 percent cover), forests were estimated to store 247 gigatons of carbon. Areas of forest with more than 30 percent tree cover stored 208 gigatons.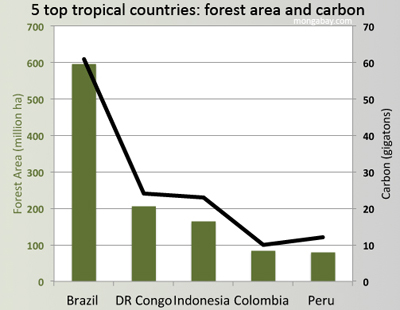 The data for the study dates to the early 2000s — forest extent and biomass would be lower today due to deforestation. Nevertheless the findings could serve as a benchmark for efforts to measure reductions in greenhouse gas emissions under the Reducing Emissions from Deforestation and Degradation (REDD) program, which aims to compensate developing countries for protecting forests and peatlands.
"The benchmark map can also be used to assist countries in assessing the carbon emissions that are likely to be avoided by implementing different policies and programs aimed at reducing deforestation and forest degradation at regional and project scales," the authors write. "The map will assist developing country governments, land managers, policy makers, and civil society to become more informed about the likely result of their policies and programs in reducing national greenhouse gas emissions from the land-use sector."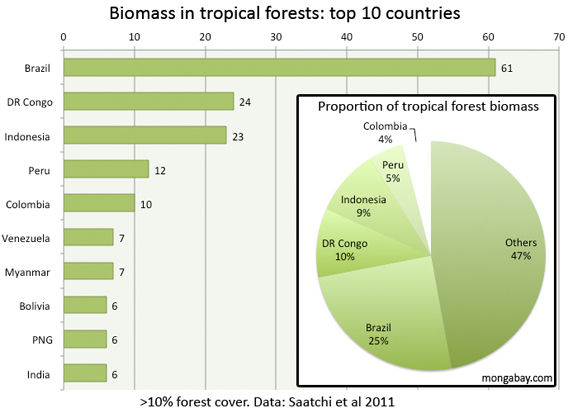 Estimates of forest carbon stocks in the ten largest national pools in the study region


CITATION: Sassan Saatchi et al (2011). Benchmark map of forest carbon stocks in tropical regions across three continents." PNAS June 3, 2011.
Source: Mongabay
Last Updated ( Tuesday, 31 May 2011 18:43 )
Is Indonesia's Program to Stop Deforestation in Meltdown?
| | | | |
| --- | --- | --- | --- |
| Wednesday, 27 April 2011 17:22 | | | |
Back in December, I wrote an article for Mother Jones about Indonesia's efforts to reduce its levels of deforestation and, by extension, its greenhouse gas emissions, which are the third highest in the world, trailing only the U.S. and China. This endeavor is part of a U.N. scheme called REDD — Reducing Emissions from Deforestation and Degradation — that aims to funnel billions of dollars of rich country aid to developing ones, like Indonesia, Guyana, and Brazil, that cut down millions of acres of trees a year due to logging, oil palm and acacia plantations, and biofuels production. In exchange for aid, these countries ween their economies away from forest resource extraction.
By way of the small town of Sungai Tohor, which is located in Sumatra, I showed how Indonesia is at crossroads. On one hand, it is set to receive billions of dollars from Norway and the U.S., among other countries, in exchange for imposing a moratorium on the issuance of logging permits and setting up a system for monitoring, verifying, and reporting activities in its forestry sector. On the other hand, Indonesia's government has been inextricably linked for decades to the logging industry and in more recent times palm oil and pulp/paper producers. Corruption is rampant. So, too, is illegal logging (although on the decline). How, I asked, could Indonesia turn all this around and go from being an enabler of forest destruction to a steward of the forests.
Since December, Indonesia has clearly not turned the corner on deforestation. Implementation of its REDD program has lagged, corruption continues to cast a dark shadow over the forestry sector, and communities like Sungai Tohor remain threatened by expanding mono-crop plantations of oil palm and acacia trees, which are used to make paper. In other words, little has changed beyond the government's public support for reigning in the logging sector and there's scant evidence that this will change anytime soon.
In exchange for a billion dollars in Norwegian aid, Indonesia was meant to impose a two-year moratorium on the issuance of new logging permits. The moratorium was set to take effect at the beginning of 2011. Yet, nearly five months later there is no moratorium in place and various government agencies are split on how to interpret what types of forests should be protected.
The central hang-up within the Indonesian government is whether or not industrial-scale plantations should be allowed on lands that have been partially degraded. The Indonesia government wants to boost oil palm and acacia production in order to increase GDP while at the same time reducing deforestation of natural rainforests and carbon-rich peat soils. Allowing industrial plantations on degraded land is an important concession to the oil palm and pulp/paper companies who fear a strong moratorium will cut into their profits. But conservation groups point out that even degraded lands provide important habitats and store vast amounts of carbon when developed and should be vigorously preserved.
Meanwhile, Mongabay.com reports that Wandojo Siswanto, a former member of Indonesia's climate change negotiating team and an advisor at the Ministry of Forests, was found guilty of receiving a $10,000 bribe from a telecommunications company seeking a contract with the ministry. He will serve three years in prison. Corruption within the forestry sector has been rampant. An Ernst and Young audit found that during the 1990s over $5 billion from a national reforestation fund could not be accounted for by the Ministry of Forestry.
A new report by Greenpeace highlights an emerging area of dysfunction within Indonesia's REDD program. The group documents how the recommendations of international consultancy firm McKinsey Group could lead to Indonesia implementing a REDD program that does little, if anything, to reduce amounts of deforestation. According to Greenpeace, McKinsey is promoting methods that understate the financial impacts of cutting GHG emissions due to smallholder agriculture (like Sungai Tohor's), while setting extremely high financial costs for clamping down on industrial forestry and agri-business. The firm's cost curve assumptions bias plantations over smallholder activities, which contradicts the stated goals of the U.N. program — reducing carbon emissions, while also protecting forest communities and biodiversity — that were codified at the U.N.'s latest meeting in Cancun, Mexico this past December.
As if McKinsey's relationship with Indonesia isn't enough of a cause for concern, the firm has a near monopoly on providing advise to other REDD-fund eligible countries, like Papua New Guinea, the Democratic Republic of Congo, and Guyana. Greenpeace details McKinsey's work with these countries as well and shows that, like in Indonesia, it is promoting policies that cut against the aims of U.N. REDD.
This is the clearest evidence yet that the U.N. REDD is skewed by corporate influence and is doing little to change business as usual in the forestry sector and mitigate global GHG emissions. There are billions of dollars at stake in Indonesia's U.N. REDD program alone. McKinsey is virtually writing the playbook for how the program will be implemented there — and beyond.
And what of Sungai Tohor? Lafcadio Cortesi of the Rainforest Action Network told me after returning from a recent trip to the area that the logging has stopped for now as the community continues to advocate for a government-imposed halt to logging.
But chainsaws rarely sit idle for long in Indonesia. (By Robert Eshelman)
Source: theinvestigativefund

Some rights for the image is reserved under Creative Commons license

Last Updated ( Friday, 27 May 2011 18:15 )
More Than 20 Years of Forest Carbon Yield Plenty of Lessons for Investors
| | | | |
| --- | --- | --- | --- |
| Thursday, 03 March 2011 18:27 | | | |
It's more than two decades since a handful of environmental non-profits and green industrialists first began experimenting with mechanisms that slow global warming by funding the preservation of rainforests. In the ensuing decades, we've learned a lot about about what works and what doesn't. Now Forest Trends and Bio-Logical have distilled these lessons into one 30-page guide for investors.
2 March 2011 | The general public didn't hear about REDD (Reducing greenhouse gas Emissions from Deforestation and forest Degradation) until it became the one real success at Copenhagen climate talks in 2009. But REDD is just one of many forest-carbon based mechanisms designed to slow global warming by preserving swathes of endangered rainforest. Indeed, such mechanisms date back more than 20 years, and in the ensuing two decades, more than 20 million tons of forest-carbon based CO2 offsets have been transacted.
So, what have we learned about forest carbon projects in general and investment insights in particular?
The recently launched Forest Trends and Katoomba Group report "Investing in Forest Carbon: Lessons from the First 20 Years" addresses that question. With support from Bio-Logical Capital, the team at Forest Trends and the Katoomba Group conducted over 50 one-on-one interviews with forest carbon leaders — from investors, through standard-setters, project developers, and sellers. The report combines insights culled from these interviews with data collected from the extensive survey performed for the purpose of the State of the Forest Carbon Market 2009 and its suceessor, which will be released later this year.
Beyond including a glimpse into the over 200 projects developed in the last 20 years, the report's authors, Sissel Waage, Director of the International Katoomba Group, and Katherine Hamilton, Managing Director of Ecosystem Marketplace, dive in and find the lessons in the successes and failures.
"There have been few, if any, 360 degree reviews of lessons learned around forest carbon projects to date," says Waage. "We and our sponsor Bio-Logical Capital felt strongly that there was a need to step back and view the whole domain of forest carbon and lessons learned from multiple vantage points: investors, project developers, buyers, sellers, methodology developers, and others."
Over the past two decades, a diverse forest carbon marketplace has developed. Even with limited regulatory drivers, the market development has included the establishment of key industry infrastructures — legal and political frameworks, project standards and methodologies, and expert resources.
"No two forest carbon projects are exactly alike," says Hamilton. "Yet, while interviewing over 50 practitioners in the field, common lessons and hurdles emerged."
The lack of regulatory certainty, however, has prevented this emerging market from developing into an established market. Forest carbon investments have faced additional challenges as well, such as a lack (until recently) of approved methodologies for measuring forest carbon and difficult cash requirements, which include significant up front costs.
Screening Future Projects
A key contribution of this report is the forest carbon project screening selection criteria. Appropriate screening selection criteria are essential to mitigating risk for forest carbon investors around the world. Many project developers consider their due diligence processes and project screening criteria a key element of their intellectual property.
Now, project developers from around the world have access to a composite list of these criteria drawn from leading thinkers in the forest carbon world.
"Screening criteria is a necessity for investors," says Waage. "Thus far, it has been a learning by fire; as there hasn't been a really an independent entity compiling the criteria based on years of experience."
With a section and annex dedicated to selection criteria, the report provides a clear guide for the investor community to evaluate risk before investing in forest carbon projects around the world. The screening selection criteria in the report examine every aspect of the potential project, from national laws surrounding carbon transactions to local context to technical prospects.
Tackling the Complexities
This report does not shy away from reminding practitioners that they will have to be "comfortable with complexity" — but it also includes recommendations on how to mitigate these complexities and reminds investors of the rewards.
"Fortunately, risk mitigation strategies are better than before and project screening criteria is more robust, and thus investors have an opportunity to be part of forest carbon development as standards, rules, and best practices are being defined," says the report. "Early forest carbon project funding… would allow them to share in the rewards, as forest carbon matures as investment class and risks decrease in the coming years."
In addition to detailed screening criteria, the report includes a number of other recommendations for practitioners to create successful projects. These include: engaging on-the-ground with community associations and project participants; utilizing the scientifically-based and peer-reviewed methodologies; ensuring access to individuals with the technical skills throughout the project; and being conservative in estimates regarding the cost and time of projects.
As REDD fast-start and bilateral funding continues, forest carbon projects will continue to be a key part of the international carbon world. And investing in forest carbon is an essential component to tackling climate change: "If you are not investing in forest carbon, you are not going to tackle a key segment of emissions contributing to climate change," says Waage. "We have to consider forest carbon as part of overall carbon emission reduction strategies."
Though, as the report notes, investing in the world of forest carbon project is not for the faint-hearted, the report provides investors a good start for managing those challenges and developing successful (and profitable) forest carbon projects. (Author: Hannah Kett)
© Copyright 2010, The Katoomba Group. All Rights Reserved.
Source: Ecosystem Marketplace

Some rights for the image is reserved under Creative Commons license

Palm oil giant vows to spare most valuable Indonesian rainforest
| | | | |
| --- | --- | --- | --- |
| Friday, 11 February 2011 10:32 | | | |
Golden Agri-Resources – the world's second highest palm oil producer – bows to pressure from the west
The world's second biggest palm oil company has agreed to halt deforestation in valuable areas of Indonesian forest, bowing to pressure from western food processors and conservationists.
Golden Agri-Resources Limited has committed itself to protecting forests and peatlands with a high level of biodiversity, or which provide major carbon sinks, as part of an agreement with conservation group the Forest Trust.
However, the agreement announced on Wednesday will still leave GAR free to exploit other areas of forest, and land that is judged to be of lower conservation value.
Greenpeace, which has strongly criticised GAR in the past for its alleged destructive activities, is expected to keep a close watch on the company to ensure it lives up to its promises. Bustar Maitar, head of Greenpeace's campaign to protect Indonesian forests, said: "This could be good news for the forests, endangered species like the orangutan and for the Indonesian economy.
"On paper, the new commitments from Golden Agri are a major step towards ending their involvement in deforestation. And if they do make these changes, large areas of forests will be saved. But now they've actually got to implement these plans, and we're watching closely to make sure this happens."
Scott Poynton, executive director of the Forest Trust, a Geneva-based not-for-profit organisation that helps companies improve their environmental sustainability, added: "Today's agreement represents a revolutionary moment in the drive to conserve forests.
"It's about going to the root causes of deforestation – we have shown that the destruction of forests is anchored deeply in the supply chains of the products we consume in industrialised nations, and we are showing we can do something about that."
He said pressure from Nestlé, which last year drew up a set of sustainability guidelines and signalled that it would not accept palm oil from sources connected to deforestation, had been instrumental in bringing GAR to the table.
Franky Wijaya, chief executive of GAR, said: "As a leading player in the palm oil industry, we are committed to playing our role in conserving Indonesia's forests and look forward to working with all stakeholders including the government of Indonesia, other key players in the palm oil industry, NGOs and local communities to find the common ground for sustainable palm oil production.
"Our partnership with the Forest Trust allows us to grow palm oil in ways that conserve forests and that also respond to Indonesia's development needs, creating much needed employment while building shareholder value."
GAR, which has annual revenues of $2.3bn, is the biggest palm oil company in Indonesia – the world's biggest palm oil producing country. The oil is used in an ever-increasing variety of consumer products, from cosmetics to biscuits, generating a market worth $20bn a year. These rewards have driven the clearance of large areas of tropical forest to make way for the plantations.
Under the agreement, GAR will not use areas of forest and peatland that are classified as "high conservation value" or as "high carbon stock", meaning they store large amounts of carbon and should be preserved. However, the definitions of these terms have not yet been precisely set. Poynton said an initial aerial assessment of forest cover had set out "go" and "no-go" areas, with GAR free to exploit the former. The "no-go" areas will be reassessed to find whether they should be regarded as valuable.
Experts in Indonesia will be asked to judge whether GAR forests have "high conservation value" under guidance from the Roundtable on Sustainable Palm Oil, a coalition of the palm oil industry and conservation groups.
The agreement also fell short of setting out how much land GAR may use for new palm planting.
Poynton said that if the agreement was successful, it could help turn Indonesia into a role model for sustainable development. Indonesia has played a strong role in international climate change negotiations, since hosting the Bali conference in 2007. (By Fiona Harvey)

guardian.co.uk © Guardian News and Media Limited 2011
Source: Guardian

Some rights for the image is reserved under Creative Commons license

Last Updated ( Friday, 11 February 2011 10:42 )
Prince Charles: 'direct relationship' between ecosystems and the economy
| | | | |
| --- | --- | --- | --- |
| Friday, 11 February 2011 10:28 | | | |
At an EU meeting in Brussels, dubbed the Low Carbon Prosperity Summit, the UK's Prince Charles made the case that without healthy ecosystems, the global economy will suffer.
"We have to see that there is a direct relationship between the resilience of Nature's ecosystems and the resilience of our national economies," he told Members of the European Parliament (MEPs), business leaders, and other policy makers. "If the fabric of the Earth's life-support system fragments, as it appears it may be starting to do; if those systems become weak or even collapse—essentially, if Nature's capital loses its innate resilience—then how long does it take for our economic capital and economic systems to lose their resilience too?"
He added: "I cannot see how we can possibly maintain the growth of GDP in the long term if we continue to consume our planet as voraciously as we are doing."
The heir to the English throne also attacked climate change deniers for their "corrosive effect on public opinion".
He stated that such self-described skeptics "deny the vast body of scientific evidence that shows beyond any reasonable doubt that global warming has been exacerbated by human industrialized activity."
In 2007 the Intergovernmental Panel on Climate Change (IPCC) concluded that it was 'very likely' (over 90%) that human activities are the primary cause of warming over the past century. Since the industrial revolution, the Earth has warmed on average approximately 1.4 degrees Fahrenheit. The last decade was the warmest since record keeping began, and 2010 among the world's warmest years.
"I would ask how these people are going to face their grandchildren and admit to them that they failed their future; that they ignored all the clear warning signs," he continued. "I wonder, will such people be held accountable at the end of the day for the absolute refusal to countenance a precautionary approach for this plays a most reckless game of roulette with the future inheritance of those who come after us?"
Prince Charles also said that environmentalists must change their message and focus on the many benefits of living sustainably.
"If we are constantly told that living environmentally friendly lives means giving up all that makes life worthwhile, then it is no surprise that people refuse to change," he said. (By Jeremy Hance)
Source: Mongabay

Last Updated ( Wednesday, 23 February 2011 16:54 )
Page 1 of 85