News
Indonesia aims to overhaul forest mess with moratorium
| | | | |
| --- | --- | --- | --- |
| Wednesday, 15 June 2011 10:22 | | | |
(Reuters) - Indonesia's moratorium on clearing rainforests has not lived up to high expectations but is still a chance to fix the country's poor forestry management to spur projects to gain emissions credits, said the official in charge of the scheme.
Indonesia's president in May finally signed the two-year moratorium as part of a $1 billion climate deal with Norway, after a five-month delay, revealing a long-list of exemptions that disappointed environmentalists but were a boost to the hard-lobbying plantation industry.
Kuntoro Mangkusubroto, the head of a taskforce on Reducing Emissions from Deforestation and Degradation (REDD), had proposed including secondary forest as well as untouched primary forest in the moratorium.
But the final wording was closer to another draft pitched by the forestry ministry -- which makes billions of dollars each year from handing out permits to firms to clear forest.
"This is not what I imagined it would be," said Mangkusubroto in an interview for the Reuters Energy and Climate Summit.
"We know that the practices that have caused the face of our forests to be in their current state is the product of past management...That's what we want to fix," said Mangkusubroto, also head of the president's delivery unit.
Mangkusubroto said his taskforce's version of the moratorium had stated how to do this, but the version signed into law was unclear and left the forestry ministry in charge.
The dispute showed how difficult it will be for Indonesia to reach a target of reducing emissions by at least 26 percent by 2020 from projected levels, while still spurring economic growth to achieve its aim of becoming a world top-10 economy by 2025. President Susilo Bambang Yudhoyono says the country can achieve both.
The moratorium deal, aimed at reducing greenhouse gas emissions, was still praised by Norway, and its implementation will be a test of how nations can achieve bilateral deals in the absence of agreement on a broader U.N. global climate pact following years of talks.
"Change for the better always faces rejection from the establishment, from those who are in a comfort zone and refuse to change," said Mangkusubroto.
He said the moratorium could be used as an entry point to reform the forestry sector. Currently many forests are included under land marked for development while areas meant to be protected forest have already been illegally logged.
DATA DILEMMA
The government will map tropical forests across the archipelago and update this every six months, though some in the mining industry have criticized this saying it increases future uncertainty over what will be included in the ban.
"If the map is to be uploaded to a website then everyone can see whether what's on the map truly reflects the situation on the ground, and there can be a step toward fixing it," said Mangkusubroto.
"This is an extraordinary step because those maps were inaccessible for the public before," said Mangkusubroto.
Data on forest cover from the forestry ministry currently differs to data from the presidential advisory team for climate change led by Agus Purnomo, he said.
The forestry ministry said the area subjected to the moratorium is 55 million hectares (137.5 million acres) of primary forests and 17 million hectares of carbon-rich peatlands, while the presidential advisor said it is 64 million hectares of primary forests and 20 million hectares of peatlands.
"This is a mess. Who would not be confused by this? Even I am confused," said Mangkusubroto, who has a "Gone Surfing" door hanger in his office and tries to stay relaxed despite trying to fix the country's notorious bureaucracy.
Mangkusubroto said once forest data was sorted out and mapped in greater detail, Indonesia could offer degraded land to businesses in return for forested land they hold permits to clear. The forestry ministry estimates there are 35 million hectares of degraded land.
He also plans to launch a national strategy next month on an expanded form of REDD, which includes the role of conservation, sustainable management of forests and enhancement of forest carbon stocks. The strategy would also include regulations and monitoring to verify what areas were eligible to receive cash for trapping carbon.
REDD uses carbon offsets to reward projects that protect forests under threat of clearing. Each credit represents a tonne of carbon locked away.
Indonesia has 44 REDD projects and the programme could contribute toward a multi-billion dollar global market in forest carbon credits if nations agree on a new climate pact.
The moratorium is good for investors trying to save carbon-rich forests, but only if the ban is enforced and progress is made in using the market to save the environment. (By Olivia Rondonuwu ; Editing by Neil Chatterjee and David Fogarty)
© Copyright 2011 Thomson Reuters
Source: Reuters

Poor will pay the price to cut carbon emissions
| | | | |
| --- | --- | --- | --- |
| Wednesday, 15 June 2011 10:16 | | | |
While Australians grapple with the idea of putting a price on carbon, in many developing countries the choice looks more like a trade-off between national development out of poverty and global action to limit climate change.
In developing countries, greenhouse gas emissions don't primarily gush from power stations but from land-use: from the forest burning traditions of subsistence farmers in Asia to the large scale clearing of forest in South America to produce commodities for export.
The global community is now asking for limits on this expansion. Industrialised nations in their own interests spent 200 years creating wealth through burning fossil fuels, but now require the rest of the world to act for the global good.
Indonesian president Susilo Bambang Yudhoyono passed a two-year moratorium last month on logging concessions. African nations are working with the World Bank's Biocarbon Fund to pursue funds from the sale of carbon sequestration - locked-up forests - while vast areas of cultivatable land on the African continent are being secured by nations from elsewhere for food production.
As Professor Ross Garnaut terms it, climate change is a diabolical problem which can only be dealt with through difficult international efforts. But are we in Australia really conscious of the price billions of the world's poorest face?
Australia, like many industrialised countries, is heavily dependent on coal-fired power. And exporting coal has kept our economy buoyant. As a nation we are grappling to find the least-cost ways to cut greenhouse pollution without harming our lifestyles.
But the world is shifting. A decade ago, China consumed 11 per cent of the world's energy; in 2010 it consumed 20.3 per cent of an increased global energy sector, making it the biggest energy consumer on the planet, according to a report in last week's Economist. In 2000 China used about a third of the world's coal; in 2010 it was close to 50 per cent, its economy the second largest.
Wouldn't there be justification for not only China, Brazil, India and Indonesia, but also the whole African continent, central and South East Asia to choose to pursue carbon-heavy industrialisation as their means to climb out of poverty? To emulate countries like Australia? In the process they are likely to eliminate the prospect that the world could limit escalating CO2 levels and the subsequent dangerous consequences of climate change that would, scientists tell us, be the result.
Even so, their pledges to act to reduce carbon pollution are substantial. If they proceed as they promise, the emission reductions of China, India, South Africa and Brazil - the BASIC countries - may eclipse the cuts proposed so far by the seven biggest developed countries the US, Europe, Japan, Canada, Australia, New Zealand and Russia by 2020.
It is clear the world needs to cooperate. According to Dr Simon Lewis, a tropical forest expert from the University of Leeds, if the forests of the Amazon were all removed for example to build Brazil's food exports - this would perhaps add 100-200 billion tonnes of carbon to the atmosphere. Globally emissions now run at about 10 billion tonnes, so we would add 10-20 years worth of today's level of emissions. Brazil's income would rise, but there would be global consequences And these fall primarily on those who can least afford it, and least cope.
World Vision's work is among the poorest of these nations. We seek the well-being of all children, so they can enjoy ''life in all its fullness''.
We are partnering with communities to create greater prosperity in ways that sustain their livelihoods by protecting the lands they depend on.
In Ethiopia, seven small communities have banded together and restored degraded hills that is now providing more food, fodder and fuel, and the captured carbon is being sold through the World Bank.
Energy-efficient stoves mean fewer forests are cut down for fuel, and less pollution affecting families and the atmosphere.
Despite the dashing of expectations at Copenhagen, the world must pursue an agreement that helps lift poor communities from poverty but which also cuts greenhouse pollution.
Justice demands that wealthy countries who have profited from the market failure of carbon pollution ought to shoulder the biggest burden to clean it up. For Australia it means doing our fair share. (BY TIM COSTELLO)
Tim Costello is chief executive of World Vision Australia and will be a panellist at the One Just World forum in Canberra tonight at the National Library of Australia at 6pm.
Source: The Canberra Times

Some rights for the image is reserved under Creative Commons license

Analysis: Economy, public seen key to climate deal
| | | | |
| --- | --- | --- | --- |
| Wednesday, 15 June 2011 09:59 | | | |
(Reuters) - Wider public unease about climate change and stronger economic growth are likely to be needed to revive sluggish U.N. talks after hopes for quick agreement on a treaty have fizzled, experts say.
Many nations at U.N. talks in Bonn from June 6-17 seem resigned to a long haul -- more like arms reduction talks or U.N. trade negotiations -- after failure to agree a binding U.N. climate deal by an end-2009 deadline at a summit in Copenhagen.
"Public awareness is really going to be the key," to spur a deal to avert heatwaves, droughts, floods and rising seas, said Rajendra Pachauri, head of the U.N. panel of climate scientists.
He told the Reuters Global Energy and Climate Summit that he believed many people, including in the United States, were "gradually getting more concerned about the realities of climate change," partly because of extreme weather.
In 2010, about 42 million people were displaced from their homes by natural disasters led by floods in China and Pakistan. Parts of the United States have been hit by the worst drought since the 1930s Dust Bowl.
Pachauri declined to predict when a deal could be reached. Some experts say it could be years away, or out of reach.
Robert Stavins, director of the Harvard Environmental Economics Programme, said it was wrong to expect a breakthrough treaty to solve climate change. He said a stronger economy was among important factors to allow slow, step-by-step action.
"With climate change we are in the position that the countries of the world were in at Bretton Woods after World War Two," he said of the conference that paved the way to reshaping the world economy.
"This is as difficult a problem," he said.
"I suspect we are looking at small steps rather than big strides at this stage," Britain's Energy Minister Charles Hendry told the Summit of the outlook for the next climate talks in Durban, South Africa in late 2011.
CHINA
Among positive spurs to action, Hendry pointed to China, the top greenhouse gas emitter ahead of the United States.
"A few years ago we had seen China as a real block to progress. Now without any doubt it wants to be one of the world leaders on green technologies. That is changing the approach they take," he said.
Developing nations, however, insist on a deal in Durban to extend the Kyoto Protocol that obliges almost 40 developed nations to cut greenhouse gas emissions by 5.2 percent below 1990 levels over the period 2008-12.
"We have an international agreement, we are all obliged to fulfill it," said Pablo Solon, who leads Bolivia's delegation.
Kyoto nations Japan, Russia and Canada say they will not agree to new cuts beyond 2012 -- despite past promises. They say that a wider deal is now needed for all nations since Kyoto backers account for less than 30 percent of world emissions.
A complication is that the United States never signed up for Kyoto, arguing it would cost jobs and wrongly excluded binding targets for emerging countries.
Many developed nations want the Durban talks to build on a deal from Mexico in late 2010 to set up a green climate fund and limit any rise in temperatures to below 2 degrees Celsius (3.6 F) above pre-industrial times.
In Bonn, even the European Union, the main cheerleader among developed nations for a quick binding deal, has conceded that 2014-15 is now "broadly realistic" as a date for a broad deal.
Some experts say that action may have to wait for the next U.N. report on climate science, due in 2013-14 by Pachauri's Intergovernmental Panel on Climate Change (IPCC).
The last IPCC report in 2007 -- saying it was at least 90 percent certain that humankind was causing global warming -- helped spur environment ministers at talks in 2007 to set a two-year deadline for a deal. The Copenhagen summit fell short.
"The last IPCC report has probably exhausted its driving force," said Elliot Diringer, of the Pew Center on Global Climate Change, a Washington think-tank.
"Many people are looking for the next report. We need the global economy to continue to improve as well," he said. "And I do think there is a growing sense that something is amiss with the weather."
Meanwhile, the problem is getting worse. The International Energy Agency said last month that world emissions of carbon dioxide, the main greenhouse gas from human activities, rose 5.9 percent in 2010 to a record high.
(By Alister Doyle; With extra reporting by Nina Chestney and Gerard Wynn in London)
© Copyright 2011 Thomson Reuters
Source: Reuters

World off course on climate; renewables vital
| | | | |
| --- | --- | --- | --- |
| Wednesday, 15 June 2011 09:55 | | | |
(Reuters) - The world is off course in fighting climate change and governments need to boost green energies to build new momentum, the head of the U.N. panel of climate scientists said on Monday.
Rajendra Pachauri said governments would face ever higher costs to slow global warming after new data showed greenhouse gas emissions rose to new highs in 2010.
"We're not on the right track," he told the June 13-15 Reuters Energy and Climate Summit in a telephone interview, adding "we are far away from" a path of least cost in slowing global warming.
The International Energy Agency said last month world emissions of carbon dioxide rose by 5.9 percent to a record high in 2010 as many economies rebounded from recession. Global warming could bring more floods, droughts, heatwaves and rising seas.
Pachauri, an Indian citizen, said the outlook was not all gloom if governments designed policies to promote cleaner energies such as wind, solar, geothermal and hydropower.
Stronger policies to promote a shift from fossil fuels "could bring about fairly rapid movement in the right direction ... One expects that there could be some kind of snowballing effect," he said.
"Renewables are already viable in a number of applications," he said. At some level of promotion such as government regulation, subsidies or feed-in tariffs of minimum prices, a shift from fossil fuels could become self-sustaining.
"It's essentially a question of policies by which the world starts moving in the right direction," he said. "We have the means, we have the technologies."
80 PERCENT
A report by Pachauri's Intergovernmental Panel on Climate Change (IPCC) last month said renewables could provide up to almost 80 percent of all energy by 2050 -- with the right policies. At worst, they would account for 15 percent by 2050.
Renewables now make up about 13 percent of the world total, which is dominated by fossil fuels such as coal, oil and gas.
He said renewables often lacked risk-taking investments -- noting that oil companies often spent millions of dollars in exploration wells that turned up no oil nor gas.
"Why is it that we are not doing the same with renewable energies where the benefits ... are so overwhelming?" he said.
Pachauri has remained IPCC chairman, weathering controversy in 2010 after an error in the IPCC report exaggerated the rate of melt of the Himalayas. Independent reviews backed the IPCC's main conclusions that global warming is "very likely" man-made.
He said rising emissions complicated efforts to keep to a maximum global average temperature rise of below 2 degrees Celsius (3.6 F) over pre-industrial times, agreed by almost 200 governments in Mexico last year.
"One gets the sense that (the trend) is in the upper half" of scenarios considered by the IPCC in a 2007 report, he said. That "upper half" would mean a temperature rise of between 3.2 and 6.1 degrees Celsius.
He faulted governments for failing to act on the 2 degrees Celsius ceiling. The IPCC said in 2007, for instance, that world emissions would have to peak by 2015 to give a good chance of achieving a 2 degree C target.
"I think they just haven't put the pieces together," he said of related scientific findings by the IPCC. "They have just focused on bits and pieces of it ... people have not looked at the complete picture."
And he said "two degrees still has significant impacts on agriculture. Particularly in the sub-tropics and tropics." (By Alister Doyle; Editing by Janet Lawrence)
© Copyright 2011 Thomson Reuters
Source: Reuters

Some rights for the image is reserved under Creative Commons license

Last Updated ( Wednesday, 15 June 2011 10:22 )
New global carbon map for 2.5 billion ha of forests
| | | | |
| --- | --- | --- | --- |
| Tuesday, 31 May 2011 18:41 | | | |
2.5-billion-ha carbon map shows forests store 250B tons of carbon



Forest carbon stock
Tropical forests across Latin America, Africa, and Southeast Asia stored 247 gigatons of carbon — more than 30 years' worth of current emissions from fossil fuels use — in the early 2000s, according to a comprehensive assessment of the world's carbon stocks.
The research, published in the journal Proceedings of the National Academy of Sciences by an international team of scientists, used data from 4,079 plot sites around the world and satellite-based measurements to estimate that forests store 193 billion tons of carbon in their vegetation and 54 billion tons in their roots structure. The study has produced a carbon map for 2.5 billion ha (6.2 billion acres) of forests.
According to the study, forests in Latin America account for 49 percent of the total carbon stock, followed by forests of Southeast Asia (26 percent), and Africa (25 percent). Brazil's forests accounted for nearly a quarter of total biomass measured in the study. Democratic Republic of Congo (9.8 percent), Indonesia (9.3 percent), Peru (4.9 percent), and Colombia (4.1 percent) rounded out the top five countries, which together accounted for more than half (52.8 percent) of tropical forest biomass.
| | |
| --- | --- |
| | |
The researchers, led by Sassan Saatchi of Caltech's Jet Propulsion Lab, used forest height data measured by the Geoscience Laser Altimeter System (GLAS) on board NASA's Ice, Cloud, and land Elevation Satellite (ICESat) to model the distribution of above-ground biomass stored in forest vegetation. These estimates were calibrated using more than 4,000 on-the-ground research plots.
The paper notes that while more precise airplane-based systems for mapping carbon stocks have been developed, these are presently too expensive to implement on large scales. Therefore the authors say their map can be used for national- and project-scale assessments of greater than 10,000 hectares (24,700 acres).
The study estimated carbon storage using three thresholds of forest cover: 10 percent, 25 percent, and 30 percent tree cover. Under the loosest definition (10 percent cover), forests were estimated to store 247 gigatons of carbon. Areas of forest with more than 30 percent tree cover stored 208 gigatons.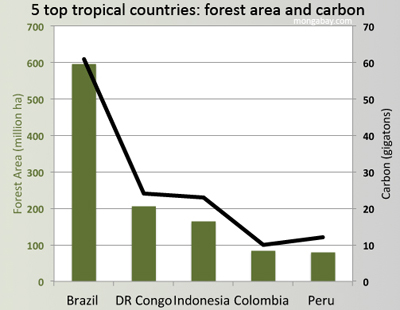 The data for the study dates to the early 2000s — forest extent and biomass would be lower today due to deforestation. Nevertheless the findings could serve as a benchmark for efforts to measure reductions in greenhouse gas emissions under the Reducing Emissions from Deforestation and Degradation (REDD) program, which aims to compensate developing countries for protecting forests and peatlands.
"The benchmark map can also be used to assist countries in assessing the carbon emissions that are likely to be avoided by implementing different policies and programs aimed at reducing deforestation and forest degradation at regional and project scales," the authors write. "The map will assist developing country governments, land managers, policy makers, and civil society to become more informed about the likely result of their policies and programs in reducing national greenhouse gas emissions from the land-use sector."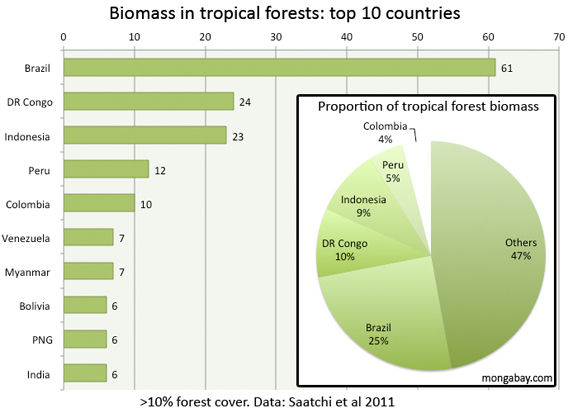 Estimates of forest carbon stocks in the ten largest national pools in the study region


CITATION: Sassan Saatchi et al (2011). Benchmark map of forest carbon stocks in tropical regions across three continents." PNAS June 3, 2011.
Source: Mongabay
Last Updated ( Tuesday, 31 May 2011 18:43 )
Page 1 of 109